PAST IN-PERSON APPEARANCES - screenings, events, lectures, panels, speeches.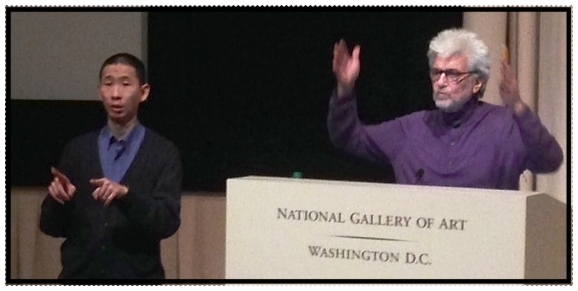 Lincoln Center Atrium (NYC), TREIZE Gallery (Paris), WRO Biennale (Wroclaw Poland), Furst Wurld Theater (Joshua Tree CA), Museum of Modern Art (NYC), IFC Theater (NYC), Silent Movie Theater (LA), Anthology Film Archives (NYC), Spectacle Theater (Williamsburg), The Kitchen (NYC), Paley Media Center (NYC), Light Industry (Brooklyn), Union Docs (Brooklyn), American Film Institute (LA & Washington DC), DC Art Center, National Gallery of Art, UC Berkeley Art Museum, Wexner Center for Visual Arts (Columbus, OH), Lightbox Film Center (Philadelphia), Walker Art Center (Minneapolis), City Lore "City Streets" Film Festival, Video Inn (Vancouver Canada), American Center (Paris), Mala Stanica Gallery (National Art Museum, Skopje, Macedonia), Copenhagen Film Festival, International Public Television Conferences (Granada, Spain and Liege Belgium), University Film & Video Association Conferences (New Orleans, Boston, Burlington), Goddard College Alternative Media Conference, Myrna Loy Film Center (Helena MT) - Martin Holt Film Festival (keynote address), Louisiana Media Rendezvous (keynote address, Baton Rouge), Videomaker Convention (keynote address, Meadowlands, NJ), Rotterdam Film Festival (retrospective), Berlin Film Festival (retrospective), Flaherty Film Seminar (retrospective) and more.
PAST CAMPUS VISITS - screenings, workshops, classes, events.
Yale University Drama Department, Hofstra University (full-time Associate Professor), NYU Graduate & Undergraduate film programs, School of Visual Arts, The New School, American University, Howard University, University of Hawaii Pacific New Media Institute, Bard College, Rhode Island School of Design, San Francisco Art Institute, Minneapolis College of Art and Design, School of the Art Institute of Chicago, SUNY Buffalo, LOJA Center for Balkan Cooperation (Tetova, Macedonia), OKC Abrašević Centre (Mostar, Bosnia and Hercegovina), MLKing Jr High School (Dakar, Senegal), Academy of Fine Arts (Bratislava, Slovakia), Roma Art Academy (Kosice, Slovakia), American Corner (Podgorica, Montenegro), Syracuse University Newhouse School of Communications & Department of Fine Art, SUNY Albany, SUNY Buffalo, UCLA, UC San Diego, University of Michigan, Duke University, Macalester College, Montana State University, University of Arizona, Georgia State University, UC San Diego (LaJolla), University of Illinois, Tulane University, Appalachian State University (NC), Northwestern University, Ohio Arts Council Summer Media Institute, Edward R.Murrow High School (NYC), HS of Art & Design (NYC), NYS Department of Education Summer School for Media Arts, South Carolina Media Arts Center, and many more.
APPEARANCE & CAMPUS VISIT OPTIONS
Presentations designed for course syllabus, department or school program, professor's and students' needs.
SCREENINGS & LECTURES:
Skip's New Movies Recent digital movies produced with camcorder and iPhone

Camera Journalism Highlight Reel Skip's best single-person-crew video stories

Skip Blumberg Micro-Retrospective Best videos from 50-year production career by pioneer Emmy-winning indy videomaker

Experimental Video Survey Vintage and contemporary experimental videos by noted and neophyte artists

Classic Performance Video Showcase Variety show of avant-garde performance videos

Talking Back to the TV Early Community Video Survey of screen crowdsourcing, media activism, and historic cable TV projects

"Videofreex Pirate TV Show" Videos by the infamous early indy video pioneers: art, politics, alternate culture and their pirate TV station

"Here Come the Videofreex" Feature doc about the infamous group in the utopian 1970s by Jon Nealon & Jenny Raskin

Guerrilla Television: Videofreex, Ant Farm & TVTV Quintessential samples by the 3 legendary early gonzo video groups
WORKSHOPS, CLASSES & ACADEMIC SERVICES:
Steady Handheld Camera Training Exercises Shoot like a pro in less than an hour

Structural Breakdown of a Short Observe and analyze a film's structure like an editor. Even a short film has sections.

Fastest iPhone in the West Digital phone production techniques boot camp

Street Interviews Maximize productivity with assembly line techniques to get the best vox-pop, sound-bite interview clips

Location Scouting / Scene-setting Screenings and location scout techniques and exercise, portrait of a place

Process Documentary Action coverage analysis and shooting exercise. Feng shui camera positioning.

The Art of the Interview Techniques, role plays, & assignments for in-depth interviews

Portrait Videos Combine the production elements produced in the workshops above to construct an edited short movie in a week

One-person Crew Camera Journalism Production Workshop

First-Person Doc Production Put yourself in the picture - lecture, screening, exercises - to present yourself as a character in your story.

Camcorder Image Scavenger Hunt Production game and installation screening

Documentary Production Course / Workshops Introductory to Advanced

Experimental Movie Production Course / Workshops Introductory to Advanced

Documentary and Experimental Media Studies Courses Surveys and special courses from film to the web

Mentoring & Notes on Students' Documentary and Experimental Movies One-to-one in-person and via internet